Secondary optics
The secondary optics retrieve the diffracted X-rays from the sample. Just like the primary optics, there are many components at work here. The first component is a slit called the anti-scatter slit. This is followed by a set of soller slits and then finally the receiving slit. The receiving slit is either directly followed by the detector or by a secondary monochromators which is usually a single crystal monochromators. These comopnents serve the following purposes:
The anti-scatter slit not only reduces the height divergence but also reduces diffusely scattered X-Rays which are due to amorphous or air scattering. This results in a reduction in noise of the output.
The soller slits reduce the axial divergence.
The receiving slit reduces the X-Ray beam height divergence and removes diffuse scattering from the previous optical element. It improves the instrument resolution by removing scattered radiation.
The secondary monochromators suppress white and Kβ-radiation and only allow the Kα-doublet to pass to the detector. A secondary monochromator has the advantage to remove fluorescent radiation originating from the sample.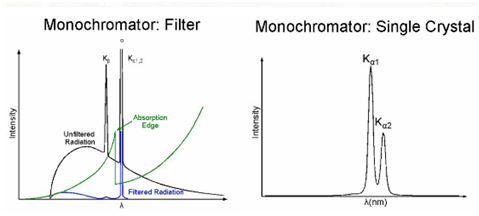 Images taken from the NTU XRD secondary optics page
Monochromator types and the relative intensities of characteristic lines
| | Kα1 | Kα2 | Kβ |
| --- | --- | --- | --- |
| Source | 100% | 50% | 15-30% |
| Filter | 100% | 50% | 1-3% |
| Secondary Single Crystal | 100% | 50% | 0% |
| Primary Single Crystal | 100% | 0% | 0% |