Introduction - aims and learning outcomes
Welcome to the online learning module for transmission electron microscopy. Through self-instruction, this unit will help you learn:
the basic principles of TEM operation;
the origin of images and their formation;
to understand electron diffraction and its applications;
to understand procedures for collecting and interpreting images;
to develop routines for preparing samples for investigation; and
how to work safely in an electron microscope laboratory.
You will also get the opportunity to "play" with a virtual transmission electron microscope by following the guided instructions. This module will not make you an expert overnight, but it will provide the background needed to begin experimentation and provide the scaffolding necessary to eventually become a fully-fledged electron microscopist through practice and perseverance.
At the end of the module menu is an online multiple choice test. You can do this at any time to determine how much you know about TEM, and repeat it as many times as you like. The result can be saved and sent to your teacher or supervisor if you wish.
If you do not wish to start at the beginning and go all the way through the site, the screens following this one give you the opportunity to tailor the site to your specific learning needs.
We wish you an enjoyable learning experience.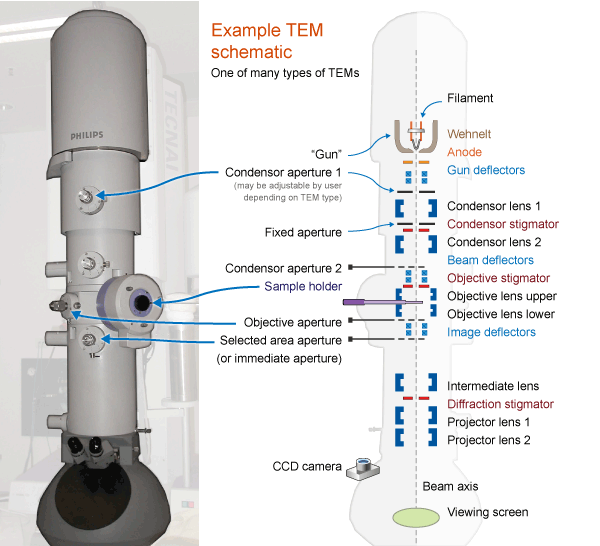 A generalised cut-away diagram of the internal structure of a transmission electron microscope alongside an example of a modern instrument.