Resolution
Definitions
Resolution

the ability to distinguish closely spaced points as separate points.

Resolution Limit

smallest separation of points which can be recognized as distinct.

Resolving Power

resolution achieved by a particular instrument under optimum viewing conditions.
The concepts of resolution and magnification are often confused. Any image can be magnified without limit, but most will become blurry if we do this. A crisp image is what is wanted. This means:
the image must be properly focused, and
the image must have adequate resolution
The left image shows low resolution and the right image shows high resolution. The left image is an enlargement of a low magnification image whereas the right image is taken at the higher magnification. Both images are of a cell nucleus (rat's liver cell).
Magnification is simply the process of enlarging an image. Once a TEM is calibrated then it is possible to determine exactly how much enlargement has occurred. This can be recorded on an image as a scale bar. The use of 'times magnification', e.g. 50,000x, will only be accurate for an image of set/ fixed dimension and so can lead to errors.
Higher magnification will not necessarily give higher resolution. Unless a microscope is equipped to deliver higher resolution images, higher magnification will only achieve 'empty' images.
Resolution in a microscope is determined primarily by the wave nature of light or electrons according to Abbe's equation:
Illumination with a smaller wavelength results in better resolution (the two spots can be seen as distinct) and this is why the electron microscope produces higher resolution images than the light microscope; because the wavelength of an electron is smaller than visible light.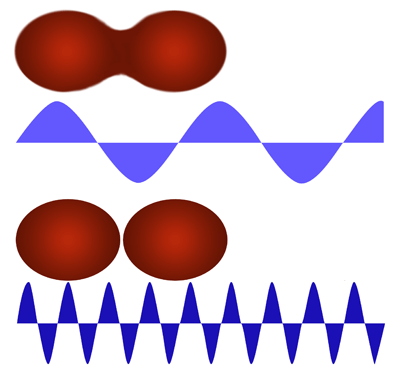 Illumination with a smaller wavelength results in better resolution.
TEM resolution equation

| Where | Equals |
| --- | --- |
| d | resolution (minimum resolvable distance) |
| λ | wavelength of the energy source |
| n | refractive index of the medium |
| α | aperture angle |
Note: The term nsinα is named numerical aperture.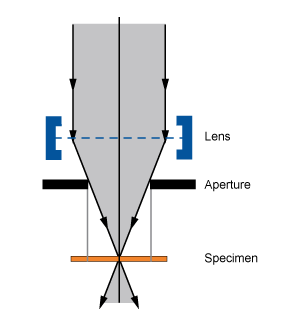 For more on resolution see the Scanning Electron Microscope (SEM) module.