Tilting
The appearance of a diffraction pattern will depend on the orientation of the specimen to the electron beam. If the specimen is tilted so a plane of atoms or crystallographic direction satisfies the Bragg condition, distinctive diffraction patterns will be obtained with diffraction maxima (i.e. spots - often called reflections) in arrangements which reflect the crystal structure of the specimen.
To achieve this, samples in a TEM can be tilted. There are both single-tilt and double-tilt specimen holders. A double-tilt holder is superior since the tilting of the sample can be achieved in two axes (X and Y). It is common to try and tilt a sample so that a crystal zone axis is, in effect, parallel to the electron beam. Under these conditions a predictable arrangement of reflections will be present in the diffraction pattern - see the pattern below for ZnO.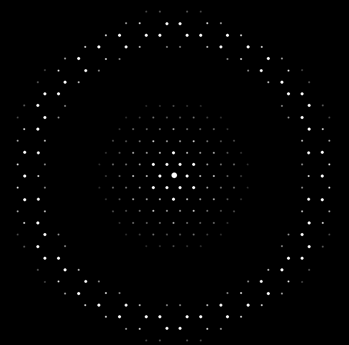 This diffraction pattern has been simulated and tilted using the jems program by Pierre Stadelmann.
You can practice tilting a sample using the virtual TEM
.