Specimen choice
Specimen choice and preparation can be a limiting factor with any type of AFM.
The AFM piezoelectric scanners are usually limited to a maximum vertical movement of approximately five microns with a maximum x-y range of 100 x 100 microns. Therefore any surface with more than five microns of roughness will be extremely difficult to image with most AFMs.
For sample scanning systems sample size is also typically restricted to a maximum area of 1x1 cm and with a maximum sample thickness of approximately 3 mm.
For tip scanning systems sample size can be much larger and thicker.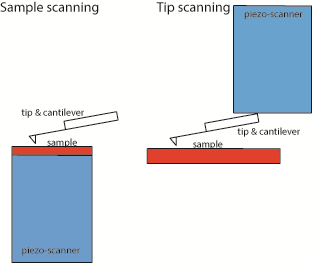 Figure 7. Sample and tip scanning set-ups for AFM. Tip scanning allows for a much larger and thicker sample.
The choice of mode for AFM should be based on the characteristics of the sample surface of interest and the hardness and stickiness of the sample.